How to Stop Being Thirsty on the Keto Diet.
Congratulations! You are Thirsty on the Keto Diet!
What the heck am I congratulating you for?  Well, being thirsty on keto diet means you have hit the state of Ketosis! You may also noticed you have a bit (or a lot!) of bad breath with this sign.  Both are symptoms of achieving the state of ketosis and getting yourself into that fat burning fuel mode!
Ketosis means that you have hit the level where ketones are made from fat in your liver and ready to be used as fuel to run your mind and body.  The more ketones you burn, the more fat you burn, the more weight you lose!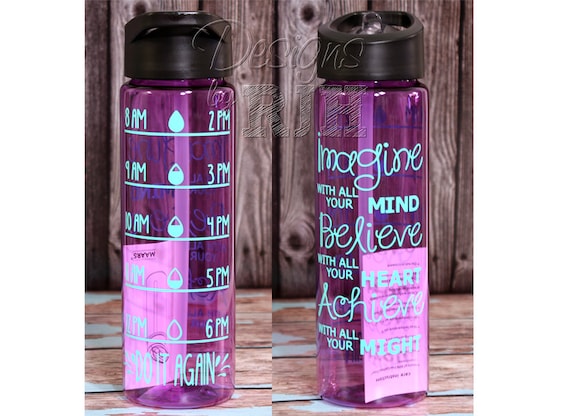 Inspirational Personalized 24oz Sports Water Bottle with Hourly Reminder Times

Unfortunately, dry mouth in ketosis  may be an issue for you if you don't drink enough water. You will need to drink a gallon a day if you can.  You also urinate a lot more when in ketosis, so you are losing more fluids.  
What can you do to prevent dry mouth in ketosis?
Four tips Stop Being Thirsty on the Keto Diet:
Drink a LOT of Water

Drink a cup of Bouillon every morning

Add Minerals to your water

Use a Mouth Wash the prevents dry mouth.
Water:
Drink good grade water if you can.  I have recently found and totally love this water (shown below) and I get it from HEB. I drink one a day with my other water consumption.  It is supercharged ionized alkaline water with 9.5 ph level.  It really re-hydrates you.
Essentia Ionized Alkaline 9.5 pH Bottled Water, (Pack of 24)
Bouillon:
On the keto diet, we usually cut our salt in take by more than half, when we cut things like potato chips, french fries, popcorn and other high carb salts from our menu. So, bouillon in the morning has the perfect salt hit and helps keep us from being thirsty. I mash one beef bouillon into a cup add water and microwave for one minute and sip it like coffee. So YUM and fills you up with ZERO carbs!  I use Wyler's Beef Bouillon Cubes, it has zero carbs and can be found at HEB and I believe Walmart.
Minerals:
Electrolyte Concentrate for Rapid Rehydration – NO Sugars, NO Additives
In Ketosis, you will need to replace certain minerals that may be leaving your body with the extra urination, and as well add some that you may not be getting enough of while you adjust to eating a low carb diet.
OR~ if you are not drinking enough water, or having trouble consuming enough water, this product will re-hydrate you to were you don't need to consume 50 gallons of water a day to be hydrated… Okay, well you know it just feels like 50 gallons!
I use the mineral drops shown here; in all my water. It contains no calories, sweeteners, carbohydrates, artificial colors, flavors, or preservatives. Non-GMO, vegan, vegetarian, and gluten free.
Also contains Magnesium, Potassium, and Zinc which is very useful on the keto diet as well.
Mouthwash:
Oral Essentials Dry Mouth Mouthwash 16 Oz. Certified Non-Toxic & Dentist Formulated and Recommended
Sometimes, in the state of ketosis, you may notice a dry mouth with or without thirst. I found a very good tasty and healthy mouthwash!
From their ad:  Ultra-Moisturizing, No Stinging or Burning, Certified Non-Toxic, Alcohol Free, Preservative Free, Sugar Free, and no Artificial Dyes.  
And:  It contains Organic Aloe Vera, Coconut Oil, Grape Seed Oil and Cayenne Pepper Oil to help prevent dry mouth on keto diet.  I am on my third bottle, not really for thirst, but just because I like it!
——–
Give these products a try if you are finding yourself thirsty on keto diet. Let me know either here in comments, or if you have questions, join my Facebook Group. Love Pinterest? Hit me up there too!
Originally posted 2017-08-26 21:41:02.